2022 - WORLD 100 WEEK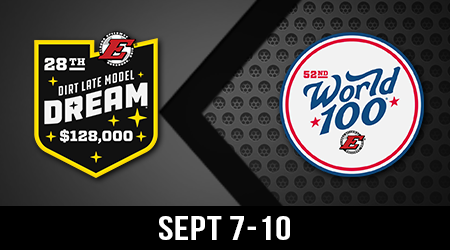 You'll never experience an event quite like the World 100. The 28th running of the DLM Dream has been added on Wednesday September 7th. Each night requires a separate ticket. World 100 Camping is good for the entire week.

SEPT 7: 28TH DLM DREAM FINALE PLUS CHASING THE DREAM
SEPT 8: THE 52ND WORLD 100 TWIN-25'S
SEPT 9: THE 52ND WORLD 100 TWIN-25'S
SEPT 10: THE 52ND WORLD 100 FINALE
The 52nd World 100 returns in 2022. Keeping with the tradition of raising the winner's purse by $1,000 each year equates to a top prize of $55,000 in 2022. Every position will see an increased payout in 2022, including $25,000 for runner up and a minimum of $5,200 to start the event. Both preliminary nights will feature two $12,000-to-win main events.

The 28th DLM Dream on Wednesday September 7th will be a separate event. If you already have tickets for the DLM Dream, you will be able to scan them at the gate for entry. We will not be reprinting tickets. If you had pit passes to the DLM Dream, please hold on to them as you will be able to redeem them for new ones at any box office window. If you do not have a ticket, they are now available for purchase. The DLM Dream was halted by rain in June with 14 laps complete in the A feature. The remaining 86 laps will be concluded that evening as well as the 'Chasing the Dream' event. This event will consist of only A-feature events for drivers that have never won a late model A-feature at Eldora and/or who is not in the remaining Dream feature that evening. Each A-Feature will pay $5,000 to win.