2021 - Family FIREWORKS Night #2 by Casey's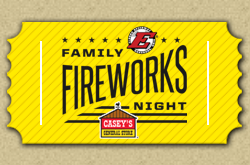 7:30 P.M. - SATURDAY, AUGUST 7, 2021!
It's Family FIREWORKS Night by Casey's! One giant night of family fun...
You'll see the UMP Modifieds, Eldora Stocks and Vore's Compact Touring Series Nationals! All seats General Admission for this show.
Then, we'll end the night with a World Famous Eldora FIREWORKS Extravaganza!