2021 - JOHNNY APPLESEED CLASSIC BY MILLER LITE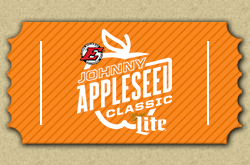 7:30 P.M. - SUNDAY, MAY 30TH, 2021!
Don't miss the Johnny Appleseed Classic by Miller Lite!
It's Eldora's first holiday weekend SUNDAY night special!
You'll see...

$5,000-to-win DIRTcar American Late Model Series!
$1,000-to-win UMP Modifieds!

$750-to-win Eldora Stocks!
It's the last all-important test for the stars of Dirt Late Model racing as they prepare for the 28th & 27th Dirt Late Model Dreams on June 10th & 12th!